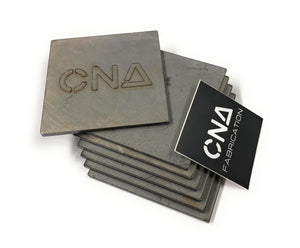 Welding Cube Kit - 11 Gauge Mild Steel - 3 by 3 inch (3"X3") Squares
Vendors and Bulk Buyers Welcome! Click "Contact us"
Get straight to the good stuff... welding

Saves time sourcing, cutting and preparing practice materials

Ready-to-weld training kit contains six perfectly cut steel squares

Grab your gloves, welding hood, and torch of choice and test your welding skills

Laser cut in USA with USA steel because it matters
Now in a 3" Version!

Maybe you've seen the "Cube Challenge" online and wanted to try it, or maybe you've been looking for a way to practice welding without having to prepare your own cut pieces.

Or maybe you found this listing looking for training kits or other welding accessories. No matter how you got here, we're sure glad you did, and we hope you love this welding kit!

This laser cut, packaged and designed in the USA kit is an inexpensive and easy way to get straight to the good stuff - welding.

Don't be fooled by its appearance, this kit is surprisingly difficult to complete. 11 gauge (1/8 inch) steel is more difficult to weld open corner, and a slight slip on the fixturing will show in the final product.

But what good would a training kit be if it didn't challenge you ;)

Want to test your skills at other types of welding joints? No problem. use the pieces to do inside corner joints, butt joints, lap joints, tee joints and more.

Feeling creative? You can weld this kit however you want into anything you want like pen holders, business card holders, bowls, stands... The possibilities are only limited by your imagination.

Get it quickly with free shipping and get to training immediately.