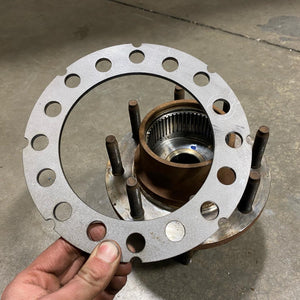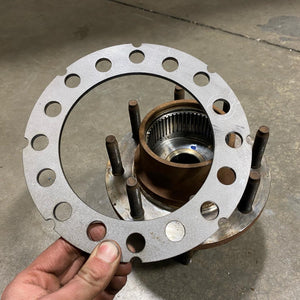 8x170 to 8x6.5 Drill Template
Are you swapping in a Ford Dana 60 with the 8x170 bolt pattern but already have an 8x6.5 rear axle? Well, here's your easy solution!
This template slips over the studs of the 8 lug ford pattern and accurately gives you the drill locations for 8x6.5. All you need is a 39/64" drill bit for stud holes to be a correct press fit. The template is sized for the 39/64" drill bit on the 8x6.5 pattern and the holes for the ford pattern are sized so that they slip over the studs but sit on the taper. NOTE: the template sits a little above the face of the unit bearing to give the most accurate location.
We recommend using a drill press or a mill to make sure the holes are drilled straight in the unit bearing. 
Drill bits can be found on McMaster-Carr PN:2931A51
Laser cut out of 3/16" Steel
Free Shipping!