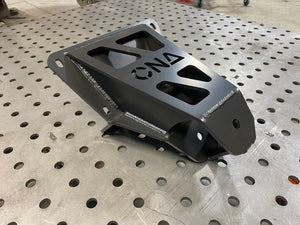 73-87 K10 Rear Spring Hangers
Get rid of your old 73-87 Squarebody Spring Hangers
Does anybody else have some rusted out rear spring hangers on their 73-87 Squarebody? Well ours definitely were, and after years of abuse out on the trail they looked pretty bad. We decided to finally solve this problem!
Introducing our new 73-87 K10, K20 Rear Spring Hangers! These are a direct replacement for the stock spring hangers. Simply knock out the rivets, pull the old ones off, and install the new ones. 

Made out of 1/4" Mild Steel so you never have to worry about them again. Think 1/4" might've been a bit overkill? The new spring hangers each only weigh about 2lbs more that the stock ones!
Spring hangers are sold in pairs. They are directional and feature an integrated rock guard to help keep the rocks off the leaf spring main eyes.
Offered fully welded and unpainted or as a DIY weld-it-yourself kit.
NOTE: Spring Hangers are made to order, give us a call or send us an email to place an order. Once submitted, please allow up to 2 weeks lead time for fabrication.